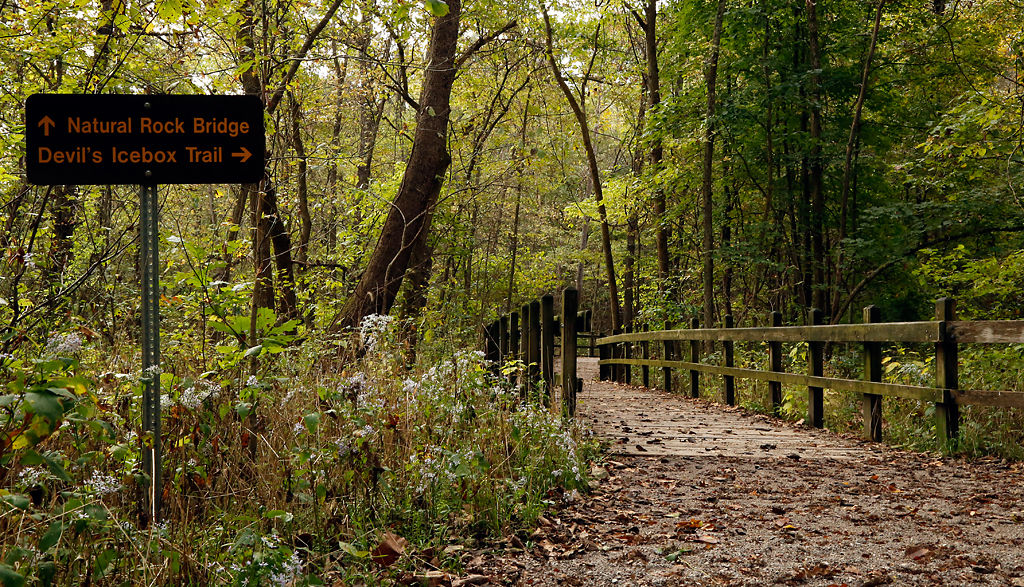 Earl Duncan, left, tells Erin Carr and her son, Kaius Weis, 4, about his adventures in the Devil's Icebox on Monday at Rock Bridge Memorial State Park. Carr and Kaius visit the park every Monday while they wait for Carr's daughter to get out of piano lessons. Kaius was excited by the prospect of seeing bats on the boardwalk.
COLUMBIA — Each time the parks, soil and water sales tax has been on the ballot in Missouri, it has passed with a wide margin.
For the fifth time in Missouri's history, the one-tenth of 1 percent sales tax will be up for renewal on November's ballot. If the amendment is renewed, Missourians will pay about $14 annually, according to the Department of Natural Resources.
"That's one trip to the drive-thru," said Missouri State Parks Director Bill Bryan.
Each year, the tax generates $80 million to $90 million. Half of that goes toward the Missouri State Parks Department, and the other half is routed toward soil and water conservation efforts in Missouri.
The tax provides around 75 percent of the annual funding for the state parks department — about $40 million to $45 million. Bryan said the department earns the other 25 percent from fees at camp sites and sales in park gift shops.
"Without that, you can really roughly say that three-fourths of what has been done in our state parks in the past 10 years wouldn't have happened without the sales tax," Bryan said.
In Boone County, the tax funded improvements to the Devil's Icebox trail at Rock Bridge Memorial State Park. Renovations, which were completed between 2013 and 2015, included a new boardwalk, bridges and a restroom. The project cost about $105,000. About $1 million from the tax also funded five new bridges in Katy Trail State Park, which were built between 2013 and 2015.
The parks department's planning and development program works with each state park to identify needs, then decides which projects are of the highest priority, Bryan said.
The tax also funds $40 million to $45 million toward soil and water conservation efforts each year.
There are 114 soil and water conservation districts in Missouri. The districts receive grants for a cost-share program in which the state provides a partial reimbursement for landowners who practice soil and water conservation. The funding for each district also goes toward technical services, such as maintenance, and education for landowners.
In fiscal year 2017, Boone County received about $275,000 from the tax for its cost-share program. The county also received two supplemental allocations of $60,000.
Though the state would find other ways to cope with funding losses if the tax doesn't pass this year, Amendment 1 makes it easier for soil and water conservation districts to provide assistance to landowners, said Boone County Soil and Water District Manager Ethan Miller.
"Producers in the county would definitely feel the effects," said Miller.
The sales tax was first approved in 1984. It was last renewed in 2006, when 71 percent of Missourians voted in favor of it. If voters approve the tax this year, it will last another 10 years.
"It has made a real difference on the ground," said director of Missouri Department of Conservation Sara Parker Pauley.
Bryan agreed. "I think we're doing a good job, so I think that they'll continue to support the sales tax because Missourians love their state parks," he said.