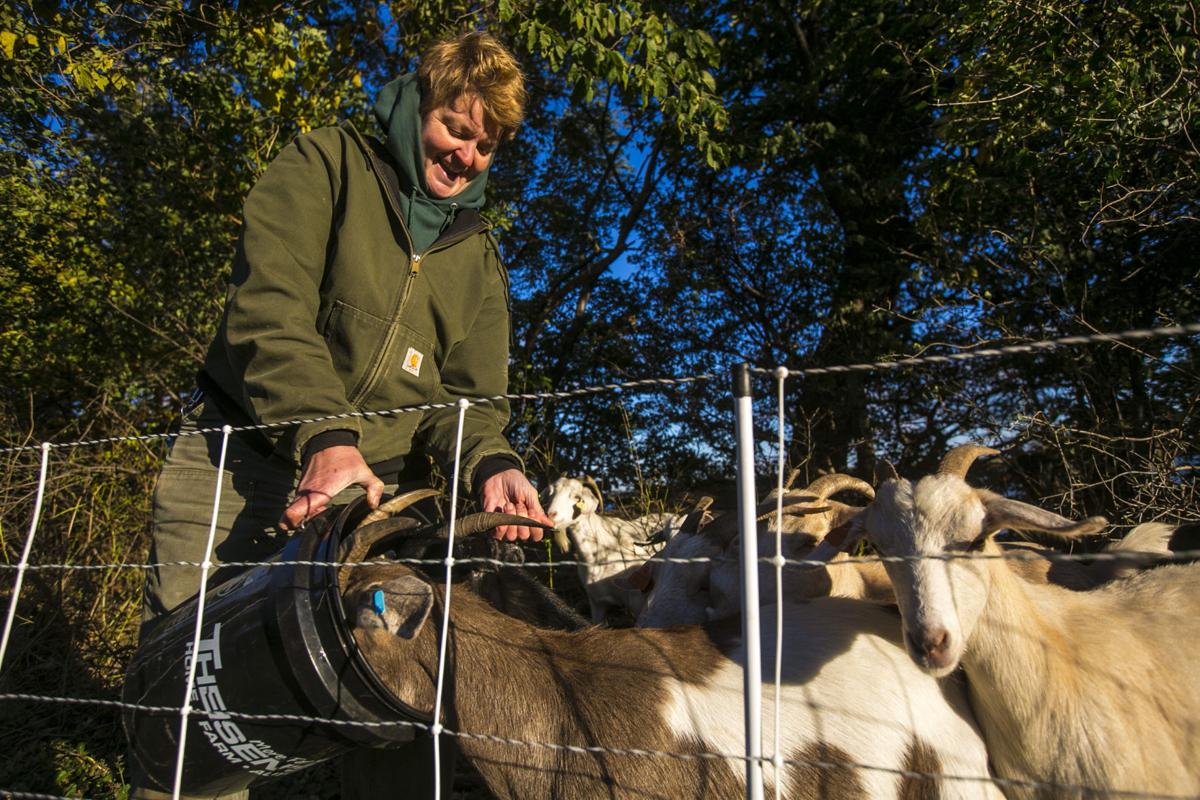 VENTURA — After six weeks of chomping weeds at McIntosh Woods State Park, a herd of 40 goats is off to greener pastures.
The goats have been helping officials solve an intractable problem at McIntosh Woods State Park, eating invasive plant species they have been struggling to control.
On Thursday, they are scheduled to head home to Ames.
Last month, DNR officials brought them in to chow down on non-native honeysuckle, buckthorn and other nuisance vegetation that crowded out native plants in the park.
Since September, they have cleared about 30 of the park's 62 acres, said park Manager Tammy Domonoske.
Ecosystem management at McIntosh Woods State Park has been ongoing since 1996.
But the goats were brought to do something she could not accomplish in nearly two decades — control undesirable plants without the use of chemical herbicides or gas-powered machinery.
They can also work in areas that would be uncomfortable and even dangerous for workers.
Since their arrival, they have been having a "picnic lunch by the shore" as they graze on vegetation both in the woods and closer to the shore that previously blocked the lake's view.
Their recent stay has attracted attention online. On the DNR's Facebook page, a nearly two-minute "Go(at) Pro" video where a portable Go Pro camera was mounted to one goat named Jessie attracted more than 31,000 views in just over 24 hours.
DNR social media manager Jessie Brown said that Facebook posts related to goat grazing always do well online.
"People love getting a look behind the scenes," Brown said.
Since 2012, they have been raising goats on property there. They now own 175 goats, Steenhoek said.
Typically, they take the goats to private residences or businesses to graze about an acre of land at a time.
They provide goats short-term to clients including the federal government, cities, school districts and two state parks to help clear invasive vegetation — usually drawing a crowd.
"They are kinda goofy looking in general, anyway," he said. "I kind of call them the court jester of the animal kingdom."
Now that winter is approaching, the goats will return to Ames for the winter.
During the first weekend in January, Goats on the Go will host "Goats on the Snow" in Ames where the company will accept donated natural Christmas trees it will use as goat feed.
The animals will be dressed in hats and scarves for the occasion, Steenhoek said.
Eventually the company hopes to also sell goat meat commercially.
Funding for their stay at McIntosh Woods State Park came from the Kinney Lindstrom Foundation and The Association for the Preservation of Clear Lake.
The price to keep them there was $800 per week, Domonoske said. She plans to bring the goats back for two more years to recoup regrown areas and further eat in the woods but is not sure yet how it will be funded.
For more information on how to make a donation, call Tammy Domonoske at 641-829-3847.
https://www.stateparks.org/wp-content/uploads/2016/06/Iowa-SP-Logo.jpg
101
320
NASPD
https://www.stateparks.org/wp-content/uploads/2017/08/Americas_State_Parks_Logo-300x188.jpg
NASPD
2016-10-13 02:27:17
2016-10-13 02:27:17
IA - After six weeks, McIntosh Woods State Park's goats go home